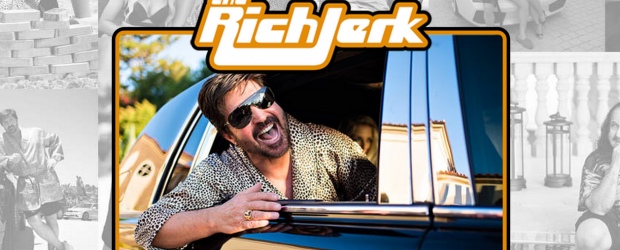 Warning: The RICH JERK is NOT for everyone and WILL offend some!
Proceed at your own risk…

Ok lets get something clear right out of the gates….
90% of businesses fail in the first 5 years!
Most people that "try" this internet marketing stuff flat out don't make it. Some would claim that making money online is "hard" and that is why they struggle.
Fact is, nothing is hard, it's the SHIT in your head that stops you. The beliefs about how long it should take, how success should look, how much one MUST pay in before they have success blah blah blah
I mean there is no hierarchy handed down that says these people are gonna be successful and these people are not. That would be crazy! We all get an equal chance at this…
I take a more harsh standpoint on this because I too have built an empire off the blood, sweat and tears but I realize now that it was required ONLY because they were the lessons that I needed to learn which shaped me into the person I am today.
I could easily play the victim and point the finger at all the things that did it to me "out there" like so many do these days.
I could claim its due to lack of funding
I could claim its due to my genetics or DNA
I could claim its because my parents
I could claim its because my skin color
I could claim I was not born smart or creative
I could claim that its due to _________
But all of that would be just another story I was selling myself so I could keep playing SMALL!
Fuck playing small!
I don't want anyone to play small in this life!
You know my story already, about how I was homeless for 11 months and lived out of my car, slept outside and then one-step at a time I started to dig myself out of this MASSIVE hole I was in. Your life does not go to shit overnight, it's a step-by-step process down into that hole.
So if you want to change your life and are sick of your current circumstances, then you make a change and respect the fact that a lot of it will be one-step at a time.
This internet marketing world is a crazy one, filled with fakers and people posing for everyone to think they are somebody. The reality is so few actually make it and have success whether its with a digital course they buy for a "method" for some side income or a fully blown business that takes over their JOB.
In a world of fakers and hired actors, I think people appreciate honesty now more than ever, even if its blunt and in your face!
I remember when I got back into this internet marketing game back in 2008, the first product I bought was Rich Jerk. It was way ahead of its time, and I remember buying the product because the guy was a dick!
This product was an all time best seller on Clickbank and was #1 in the marketing category forever!
The basis of the product was to tell you that you are probably NOT going to listen to him and go through the training and that your life would continue to suck!
Basically calling you shit!
You know why they did that?
Because they understand a very basic and primitive part of ALL of us that flat out would be pissed to hear that and more apt to go through the training just to "prove them wrong". In fact success stories from the program are mostly framed around " I wanted to show him!" and they actually went out and had massive success with the program!
How crazy is that?
Who would have thought that such a basic psychological trigger would work on such a huge amount of population.
Now that brings me to the point of this post for you…
The Rich Jerk is BACK!
This product has not been updated in over 5 years and just THIS year got a complete overhaul to the latest and greatest of SEO training, buying traffic, and how to successfully make money online methods that they have been using over the last 4+ years.
Now I put together this page because as with any product, you have to USE it in order to have success with it right!
It's not up to the creators of this product to help you deal with your inner dialog and habits that will BLOCK you from actually going through this training and using it. Much like if you bought a book, it's not the author's job to help you understand the pages they wrote. That would defeat the point of the book.
With that being said, I created a bonus that I think will REALLY help meet you where you are at and recognize self-sabotaging patterns you are running that are stopping you from the success you want.
In fact what I have decided to do is line up a special training session for all of YOU who decide to purchase Rich Jerk through my tracking link
Your Rich Jerk Bonus! (Read Carefully!)
We are all going to get together on a live webinar, we will have the lines opened up and you can ask any questions you like. We will have specific times where we will do LIVE Q & A with you, which is massive because collectively we have both done $24 MM over the last 4 years.
Access to us (Head Performance trainer & Myself) is not cheap so many people will jump on this bonus just for that opportunity.
Here is what we are going to cover on this training…
A simple process for removing blocks you may not even realize you have that gone unchanged WILL block you from using this course and having success with it. After you get your hands on this process you will feel CLEAR which will give you focus to breeze through the modules

How you can get the most out of the Rich Jerk course by instilling new habits and micro-commitments which will ensure you not only complete the course but actually put the training into action!

A simple action plan to follow each day that will bring clarity on the what, how, when of everything in this course. Before you know it you will be taking action!

The REAL reasons you have not had success, how to recognize these insanity loops we all run and how to get past them with ease!
There is so much more you will get out of this training besides what I just mentioned. Our goal with this call is to inspire you with our journeys and instill into you a different mindset than what you are used to which will get you a better result!
You want a different result, you use a different strategy.. Period!
I truly feel that if you are serious for a change in your life and sick and tired of getting the same outcome then its time to raise your hand and step up!
You step up by not only buying this product which has over 5 years of R&D put into it but you purchase through my link so you can get the added MINDSET training you NEED to finally make these crucial shifts in your life and start really taking back your financial freedom!
To Claim Your Bonus, Follow This 3-Step Process:
Email proof of purchase over to mitch@printingmoney.com and with subject line "RichJerk Bonus Claim" wait for us to email you back with your access code.
*Understand that we DO in fact get a commission for you purchasing this product through our link and we pride ourselves in giving you only the very best in training and our recommendations. If we are offering it and it's a good fit for where you are at, you should probably just buy it.
Rooting for you,
Mitch Sanders
P.S. I which everyone in this world would wake up to their greatness and realize that they are capable of so much more. This is why I put together my Rich Jerk bonus which covers how to get into your Brain and upgrade your software for a quantum leap in success!
I feel with this, ANYONE will be able to go out and use the Rich Jerk training to change their financial situation!
Product Name: The Rich Jerk
Product Creator: RJ
Price: $297 One-Time (increases to $497 on Oct 8th)
Website: RichJerk.com
The Verdict: 100% F*CKING AWESOME (sorry, I had to LOL)